NSET Publications
SCHOOL RETROF IT CONSTRUCTION GUIDEL INES
In this Issue:
BACKGROUND

This manual was developed for the Nepal Safer Schools Project (NSSP), which will increase the safety of vulnerable schools infrastructure in Nepal, increasing protection for tens-of-thousands of children and building resilience throughout their communities.

This work was funded by Foreign Commonwealth and Development Office (FCDO) and delivered by a consortium of private-sector and NGO partners. The NSSP is integrated with the Government of Nepal's School Sector Development Plan which has a focus on school safety and disaster risk reduction.

Many schools in Nepal, and the children attending them, are recognised as being vulnerable to disasters, particularly earthquakes, floods and landslides. It is estimated that more than 4 million children in Nepal attend schools in unsafe buildings; in the 2015 earthquakes almost 7,000 schools were significantly damaged or destroyed. Fortunately the largest Gorkha earthquake struck on a Saturday (25th April 2015) when most schools were closed, limiting casualties.

The Nepal Safer School Project has three aims:

1. To make schools' infrastructure safer and more resistant to earthquakes.

2. To enhance skills and knowledge at the local level enabling schools, their pupils, staff and the wider community to be more resilient to natural disasters.

3. To increase capacity at a national level to support safer schools and disaster risk reduction.
Language: English
Size: 21.862Mb
Format: PDF
FREE DOWNLOAD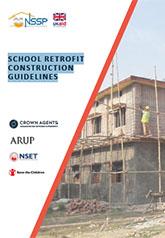 DOWNLOAD NOW...