Disaster Preparedness and Response Plan for Safe Drinking Water in the Kathmandu Valley, Lalitpur Sub-Metropolitan City (DPRP)
Supporting Agency:
UNICEF Nepal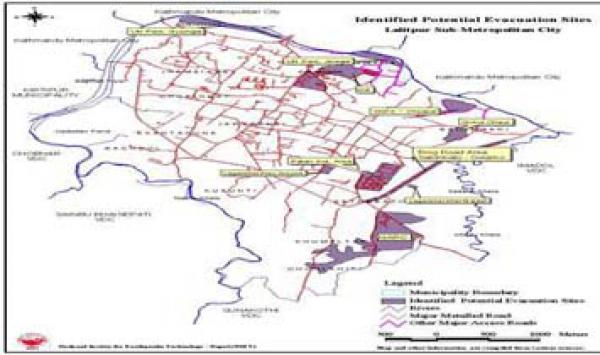 Country: Nepal
Location within Country: Lalitpur Sub- Metropolitan City
Project Period: October 2006 – August 2007

The Program
The project had two components, notably a) development of an outline of a Comprehensive Framework of Disaster Preparedness and Response Plan for the Lalitpur Sub-Metropolitan City (LSMC), emphasizing the linkages between the different critical facilities and emergency response services, and b) development and implementation of pre-positioning of water supply at identified potential evacuation site ensuring a minimum supply of safe water after a scenario earthquake resulting in IX MMI intensity of shaking. Seismic vulnerability assessment of existing and identified water wells, identification and implementation of possible structural and non-structural interventions, and encouraging wider ownership of the experiences gained, lessons learned are the main activities that are being carried out with wide consultations and participation of all stakeholders. The project put forward recommendations for further enhancing disaster preparedness and its institutionalization in LSMC. The project was implemented by UNICEF with financial support from EU- DIPECHO in close collaboration with concerned central and municipal government. NSET was commissioned to provide technical assistance.
Gallery