Feature Highlights
Regional Strategic Planning Workshop (SPW) of the Program for Enhancement of Emergency Response (PEER) kicks of today in Kathmandu. Addressing the inaugural session, Mr. Pradip Koirala from Ministry of Home Affairs highlighted the very need of enhancing national capacity on disaster preparedness and response in view of current experience of Nepal aftermath Gorkha earthquake 2015. "The task of response should be not only the part of certain standard documents or suggested frameworks such as HFA or SFDRR, rather it should be the...

NSET Statement on Gorkha Earthquake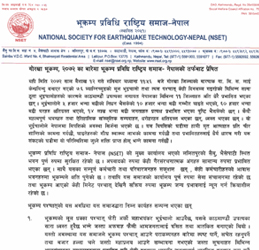 Click to view
» Call for trained volunteers
» Call for Action! If Not Now When!!
Event Calender
August,2015
View All
Sun
Mon
Tue
Wed
Thu
Fri
Sat
01
02
03
04
05
06
07
08
09
10
11
12
13
14
15
16
17
18
19
20
21
22
23
24
25
26
27
28
29
30
31
DOWNLOAD NSET HOLIDAYS