Feature Highlights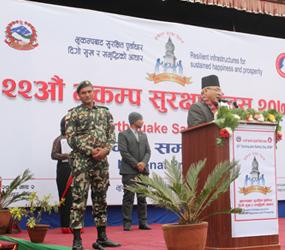 Home Minister Mr. Ram Bahadur Thapa 'Badal' has believed that construction of buildings and infrastructure that are resilient to earthquakes would be a best way out for reducing the impact of impending earthquakes as county is at high risk of such disaster.

Addressing the National Meeting of 22nd Earthquake Safety Day (ESD) held in Bhaktapur, Minister Thapa urged general people and concerned stakeholders to support in building resilient community campaign.

"This year's ESD slogan 'Resilient...
Major Program