Feature Highlights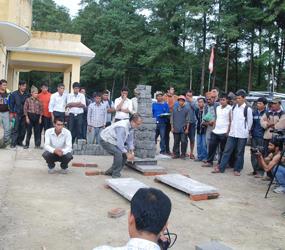 Fifty-five masons in Charikot, Dolakha graduated from an earthquake-safe construction training today, following five days of intense instruction. The masons are the first of over 5,000 who will soon construct new buildings and retrofit old ones, with the purpose of helping people get back into their homes and reducing the risk of similar damage in future disasters. According to the Government of Nepal, the April 25 earthquake damaged more than 850,000 buildings in the 14 most-affected districts. This effort is designed to address the...

NSET Statement on Gorkha Earthquake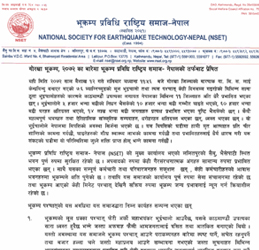 Click to view
» Call for trained volunteers
» Call for Action! If Not Now When!!
Event Calender
September,2015
View All
Sun
Mon
Tue
Wed
Thu
Fri
Sat
01
02
03
04
05
06
07
08
09
10
11
12
13
14
15
16
17
18
19
20
21
22
23
24
25
26
27
28
29
30
DOWNLOAD NSET HOLIDAYS